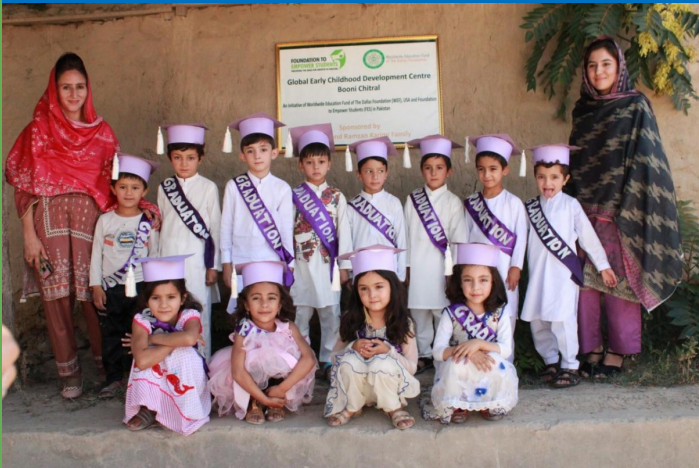 Global Early Childhood Center in Booni, Chitral in Northern Pakistan held a ceremony for the graduates of the Montessori class 2021-2022. WEF launched Global ECD Centre in September 2021 with a batch of 23 students between the age of 3-6 years.12 of the students successfully completed their one year in the Montessori class under the supervision of two certified teachers.
The ECD Center continues to work and equip 40 children with the skills to be able to learn for the rest of their lives. By teaching them a method of analytical thinking, we believe they will be able to be independent thinkers and be high performers in their chosen careers.
Global ECD is an initiative of WEF and its project delivery partner is the Foundation to Empower Students (FES) in Pakistan. The aim of this collaboration is to establish and promote Early Childhood Development programs in the marginalized communities around the South and Central Asian countries where the educational systems have been unable to nurture such developmental needs of children under the age of 6 for details click here
We would like to Thank you for your support to help us break the cycle of generational poverty in Bangladesh, India, Pakistan, Afghanistan, Tajikistan and beyond.
For more information and updates please visit our website:
The Dallas Foundation (TDF) is the fiscal sponsor of the Worldwide Education Fund of the Dallas Foundation (WEF), a component fund of The Dallas Foundation, a 501(c)(3), publicly supported charity, Federal Tax ID 75-2890371.
100% of all dollars raised through your contributions go towards implementation, operation, and maintenance of WEF's projects and programs. All administrative expenses are paid by the Founders, Connie and Kamal Daya Gift Fund of The Dallas Foundation, and by our many generous, engaged volunteers.