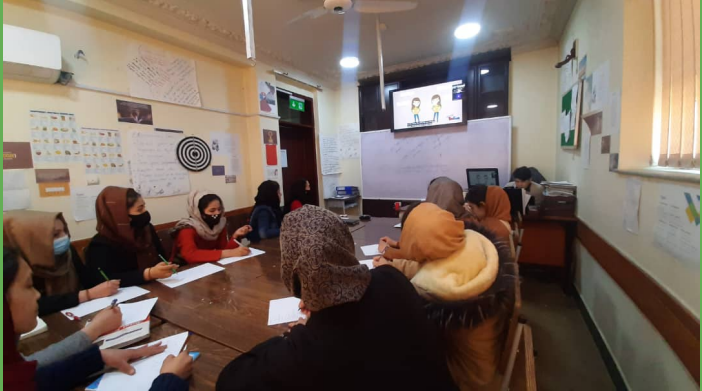 We are pleased to announce that the University of Central Asia -School of Professional and Continuing Education UCA-SPCE in Kabul Afghanistan restarted its first Global Virtual School (GVS) ESL, class.
Around 50 Afghani students joined the new session of Global Virtual School (GVS), an online English language program through the Worldwide Education Fund of The Dallas Foundation (WEF). The Afghani students will join weekly classes taught by virtual volunteers to practice their English conversation skills and learn about each other's cultures.
Providing access to quality English language courses is a key priority for WEF and this partnership is an important step towards achieving that goal. Currently, WEF offers Pre-A1 to B1 levels of English language courses. The new partnership with UCA SPCE in Kabul will allow an extended offering of English language courses for students.
As you know, an estimated 3.7 million children are out-of-school in Afghanistan – 60% of them are girls. The underlining reasons for low girls' enrollment are insecurity and traditional norms and practices related to girls and women's roles in society. Other reasons can be explained in part by a lack of female teachers, especially in rural schools. Only 16 percent of Afghanistan's schools are girls-only, and many of them lack proper sanitation facilities, which further hinders attendance.
We would like to Thank you for your support to help us break the cycle of generational
poverty in Bangladesh, India, Pakistan, Afghanistan, Tajikistan and beyond.
For more information and updates please visit our website:
The Dallas Foundation (TDF) is the fiscal sponsor of the Worldwide Education Fund of the Dallas Foundation (WEF), a component fund of The Dallas Foundation, a 501(c)(3), publicly supported charity, Federal Tax ID 75-2890371.
100% of all dollars raised through your contributions go towards implementation, operation, and maintenance of WEF's projects and programs. All administrative expenses are paid by the Founders, Connie and Kamal Daya Gift Fund of The Dallas Foundation, and by our many generous, engaged volunteers.