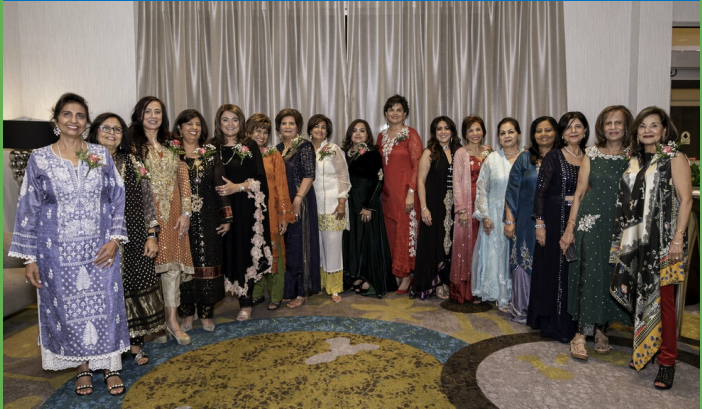 We are pleased to share that the Helping Hands Ladies Group of Dallas recently joined WEF to organize a fundraiser Annual Music Party & Dinner Gala- 2022 to expand the mission of WEF beyond 9 countries. The event was a huge success with a turnout of 265 individuals and raised over $150,000. This is the Helping Hands Ladies Group's 10th gala to support the mission of WEF. The group mixes culture and community service to help those in need, and have fun in the process.
The event elevated WEF and gave us immense confidence to expand the scope and impact of our Brick-and-Mortar operations in the remote valleys of Northern Pakistan and Tajikistan where our help is needed the most.
With the support of HH Ladies Group, we are currently impac0ng 500+ students, 40+ teachers, and 2 English Language Facilitators through our In-School Language Labs in Booni. We aim to create two more In-School Language Labs in Booni, Chitral Northern Pakistan, and increase our impact to 1000+ students, 80+ teachers, and 4 English Language Facilitators in 2023.
Helping Hand Ladies Group of Dallas has been one of our most loyal partners to WEF in its journey to expand access to over 10,000 students in 9 different countries around the world. We are highly grateful for their services and hope that the group will con0nue to be our ally in our mission to break the cycle of generational poverty one child at a time.
We would like to Thank you for your support to help us break the cycle of generational poverty in Bangladesh, India, Pakistan, Afghanistan, Tajikistan and beyond.
For more information and updates please visit our website:
The Dallas Foundation (TDF) is the fiscal sponsor of the Worldwide Education Fund of the Dallas Foundation (WEF), a component fund of The Dallas Foundation, a 501(c)(3), publicly supported charity, Federal Tax ID 75-2890371.
100% of all dollars raised through your contributions go towards implementation, operation, and maintenance of WEF's projects and programs. All administrative expenses are paid by the Founders, Connie and Kamal Daya Gift Fund of The Dallas Foundation, and by our many generous, engaged volunteers.