Sponsors:
Ms. Rubina Jivan, Family, Friends and Associates
Current Impact:
20 learners (18 women and 2 men) from remote valleys of Tajikistan.
PROJECT DESCRIPTION
The primary purpose of this project is to deliver Digital Marketing course at UCA-SPCE utilizing certified facilitators. This course will further support the initiative of creating employment for youths in Central Asia.
It will follow the same methodology as the Cyber Security course with train the trainer, followed by the trainer developing the curriculum and UCA-SPCE employing the trained facilitator to teach the course online. Install the courses on UCA LMS system so that training can be provided online to students of Afghanistan & Northern Pakistan.
The facilitators will utilize digital marketing certification course offered by Shaw Academy https://www.shawacademy.com/en-us/ .
PROOF OF CONCEPT EXECUTION PLAN:
The project follows the following execution plan:
• Identify qualified candidates with teaching skills and IT background, willing to certify themselves and then teach at learning institutions in the country for 2 years.
• Work in-parallel with institutions of learning (university and continuing education) within the country to agree to initiate the Digital Marketing Assistant Courses in their institutions and employ the candidates trained under WEF program.
• Connect the new emerging skills certified graduates with IT services and consulting companies.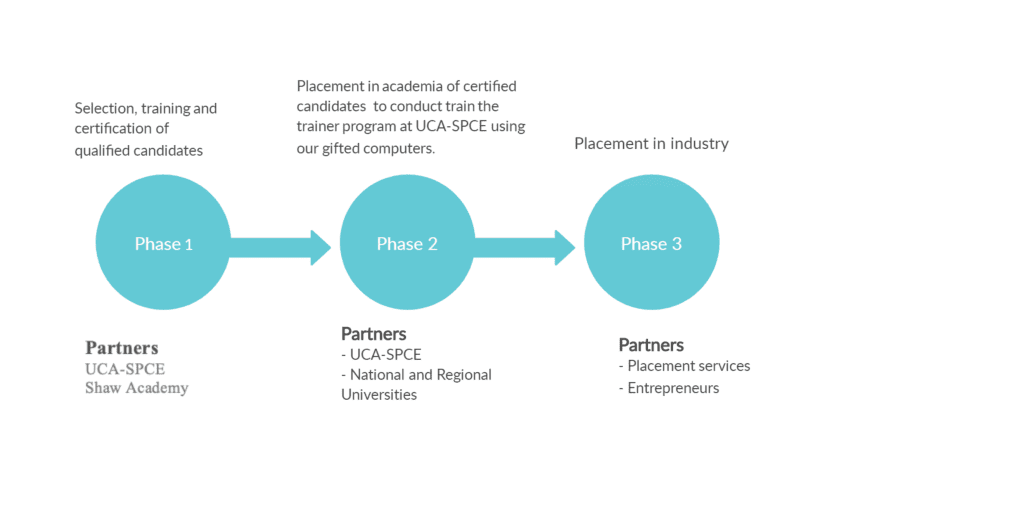 ABOUT OUR SPONSORS
MS. RUBINA JIVAN, FAMILY, FRIENDS AND ASSOCIATES:
Ms. Rubina Jivan, Family, Friends and Associates include professionals, social entrepreneurs, business owners, homemakers and students who share the passion to help the mountainous communities across Tajikistan and Northern Pakistan.
ABOUT OUR PARTNERS
UNIVERSITY OF CENTRAL ASIA-SCHOOL OF PROFESSIONAL & CONTINUING EDUCATIONS (UCA-SPCE), TAJIKISTAN:
University of Central Asia School of Professional and Continuing Education (SPCE) founded in 2006, offers a continuous and professional non-tertiary education for young people and adults in a flexible format. SPCE's Technical Vocational Education and Training (TVET) programme promotes employment opportunities. Programmes and courses on business and entrepreneurship allow graduates to create a source of income for themselves and launch their own enterprise.
More than 123,000 students (from 2006 to September 2018) have graduated completing one or more programmes from 450 available training modules. SPCE provides its services in 11 training centres located in Tajikistan, Kyrgyzstan, Kazakhstan and Afghanistan.
SHAW ACADEMY
Shaw Academy offers online certified courses with in-depth and practical lessons in over 100 subjects.